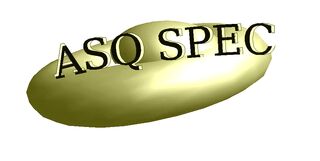 Developers
Designers
Documentors
Coders
Decoders
New Resources
Latest Developments New

We are moving towards Ajax and XUL as our bootstrapping methodology
Dual sided and distributed processing
Ajax is an emerging server sided programming language, XUL is more client sided. The distinctions are merging. The real bottleneck is the transfer and updating of data. For this quantum entanglement of ALL internet data makes all information on any node of a quantum enabled device instant and independent. This is some way off.
What are the ASQ SPEC?
Edit
Computers are now more correctly known as communicators or 'cell phones' and will be enabled with the ITS (IBM, Toshiba, Sony) consortium's cell processor or other low wattage, high powered processors. ASQ has no constraints on memory size, or CPU power. Whatever ASQ requires, exists or will develop. Several programmers can work on the same code and will ALWAYS see the results of their code
Taking the right information and processing it correctly, creates virtually anything. ASQ is the interface between the information and the required result. The end reveals the solution.
Uniquely a program is always working and available
Quantum computing and before that grid processing and Cell processors, will bypass the historical restrictions of memory, processing power and CPU design. As the potential for self configuring, growing and reconfigurable CPU's become the norm, the idea of language dependent on architecture becomes redundant
Extensive use and integration with Rich Internet Applications
Trust metric, open source, p2p wiki
Net connected and public server based for main forks
Integrated voice recognition
ASQ is AI enabled
ASQ is language and syntax independent
ASQ is 'imprecisely mapped programming' IMP. In other words it does NOT rely on precise syntax but is geared towards human speed with background AI refining the meaning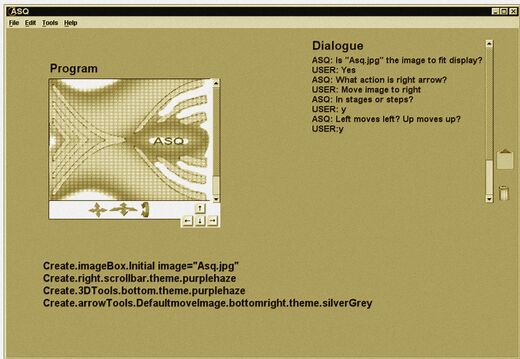 Details:
Drag and drop Drag controls into program to change your running development fork
Auto-complete code editing offering suggestions on valid syntax
Syntax coloring and Block lines and colour
Use different colors to distinguish between keywords, variables, code and comments
Code assistant
XML Plug-in development
Links:
Ad blocker interference detected!
Wikia is a free-to-use site that makes money from advertising. We have a modified experience for viewers using ad blockers

Wikia is not accessible if you've made further modifications. Remove the custom ad blocker rule(s) and the page will load as expected.